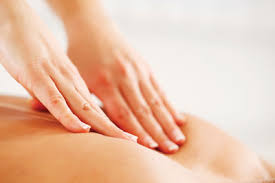 Massage ~ A place to unwind and rejuvenate body, mind, and soul.
Swedish Integrative Massage
A relaxing and rejuvenating massage, meant to help relieve stress and melt tension. Integrating a variety of techniques, this massage is a wonderful way to wash away worries and feel all is right in your the world. A slice of peace! 60-90-120 minute sessions
Thai Massage
Thai Massage is a dynamic bodywork based in yoga. The practitioner guides the recipient though a series of postures while simultaneously palming and thumbing along the body's energy lines. This is a full treatment, relieving muscular tension, improving circulation, boosting the immune system and balancing the body energetically. All sessions are performed on a floor mat, the client clothed, while the practitioner kneads out knots and loosens the joints. 60-90-120 minute sessions.
Energy Healing
This energetic work influences the energy circuits in our subtle (or unseen energetic) bodies to regain balance and facilitate the body's innate healing mechanisms. Energetic Healing takes a holistic approach that looks beyond the physical to the subtle energy systems where the cause of dis-ease can be located. This is a quiet process that takes it's own time. Sessions are 50-120 minutes long. Price is for one session, independent of time. Add on a 20 minute healing session to another bodywork session is another option.
Mama! Massage
A massage for Mamas during and after their pregnancy. An Integrative Massage using many Thai techniques, mama's receive extra attention to certain areas, even in the placement of pillows, to make room for the new little one. A well-deserved massage with every consideration taken for the comfort and stage of pregnancy. Recommended as a series of three or four.
Deep Tissue Massage
A deep tissue massage provides solace to overworked or overused muscles. Not necessarily a "more pressure" massage, but a "more focus" technique. Deep tissue is a slower moving modality, working into and working out those knots that bind. Deep tissue is used in a regular Swedish Integravite Massage and varying pressures are used interchangeably, often on a specific area. 90 minutes recommended.
Hand and Foot Reflexology
A point specific treatment that works those hard to reach spots...in the rest of the body! Hand and foot reflexology activates the variety of systems throughout the body, getting things moving and shaking, as well as easing muscle tensions and strains. Best used in a full treatment series for most effective results.
Hot Oil Scalp Treatment
A delightful scalp sensation! This luxurious treatment is a must try. Can being relaxed get even more relaxed? This amazing treatment will answer that question for you. This treatment is added in to your regular massage session.
Exfoliating Body Scrub
Influenced by both Korean and Ayurvedic practices, exfoliation improves lymph movement, encourages new skin cells, breaks down fatty tissues, and breaks down and drains toxins from the skin. This skin treatment will leave you feeeling soft and smooth for days.
Hot Stone Treatment
This warming, luxurious treat uses smooth, heated river stones to help warm up tight muscles in order to work more deeply. Thoroughly relaxing and peaceful, people who have received a Hot Stone Massage have reported considerable improvements in symptoms of neck pain, back pain, TMJ, PMS, stress, depression, insomnia, arthritis and even relief from MS and the pain of Fibromyalgia. Not recommended during pregnancy or clients with sever high blood pressure or varicosities. 90 - 120 minutes sessions
Power Nap
Some days, you just don't wanna get up off of the massage table! Add on a power nap session to soak in all elements of your session. Seriously powerful nap time.
Yoga Class
Each Wednesday, we gather for an informal yoga class, meeting you wherever you are on the mat to stretch and open our bodies, hearts, and minds. Town and Mountain Training Center 9:30am Wednesdays.
Contact One Earth Healing Massage to schedule an appointment today...
andra@massagetherapy.com
828-215-2650
| Service/Product | Rate | |
| --- | --- | --- |
| Energy Work | $75 | / 60 minutes |
| Integrative Massage | $65 | / 60 minutes |
| Reiki | $75 | / 60 minutes |
| Thai Massage | $110 | / 90 minutes |